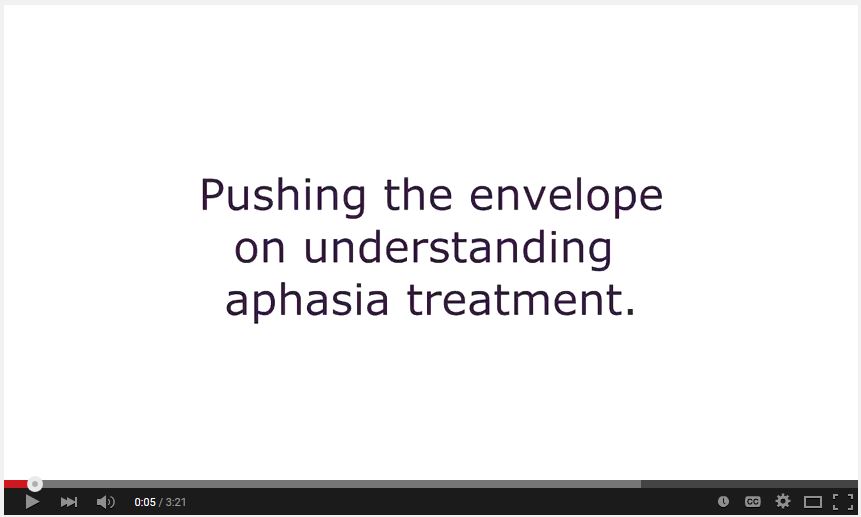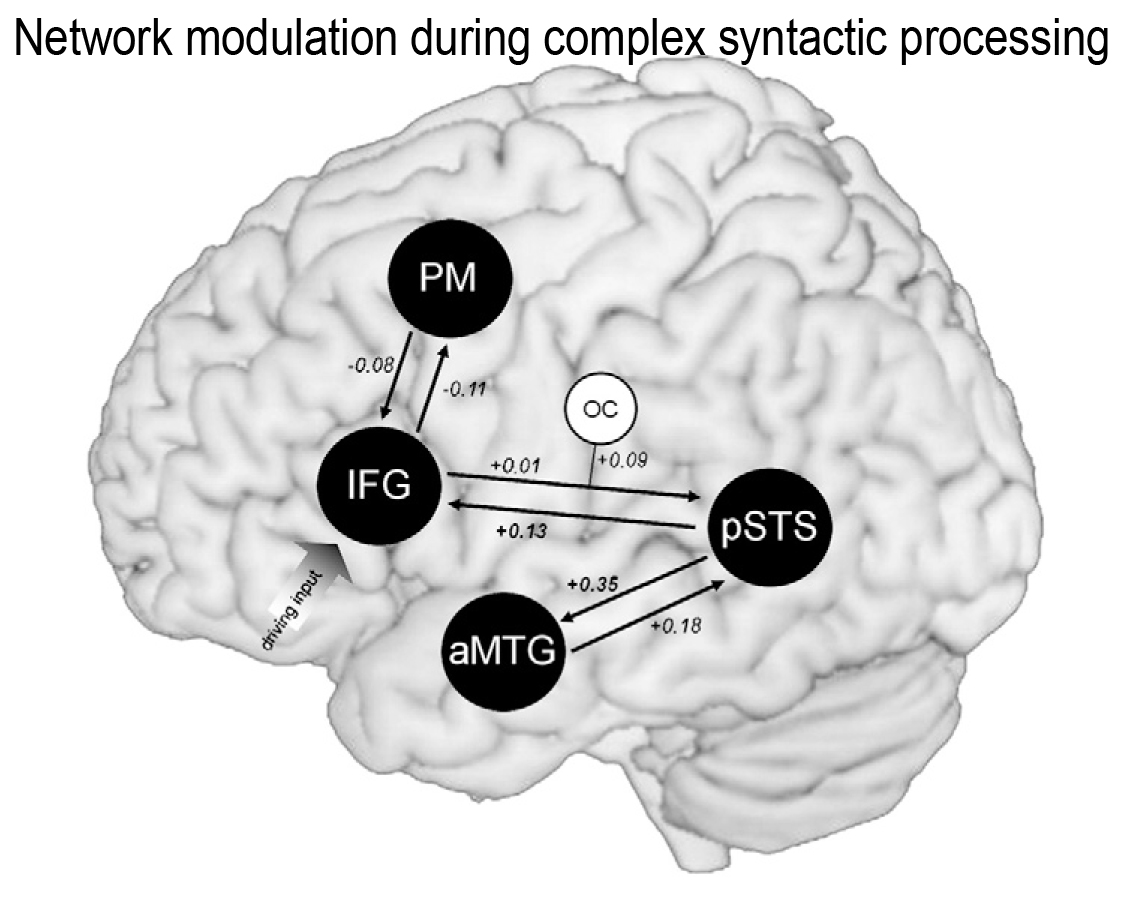 Boston University's
Aphasia Research Laboratory
The primary goal of the lab is to understand language processing and communication following a brain damage. Research in the lab makes use of neuroimaging, structural and functional, and connectivity analyses of neuroplasticity after rehabilitation in monolingual and bi/lingual individuals with aphasia.
P.I. Swathi Kiran, Ph.D., CCC-SLP
John Hopkins University's
CogNeuro Research Lab
Research in the CogNeuro lab is primarily concerned with understanding the cognitive and neural bases of the representations and processes involved in the production and comprehension of written and spoken words. To obtain a deeper understanding of these topics we apply multiple experimental methods: Cognitive Neuropsychology, Psycholinguistics, Cognitive Neuroscience (fMRI), and Computational Modeling.
P.I. Brenda Rapp, Ph.D.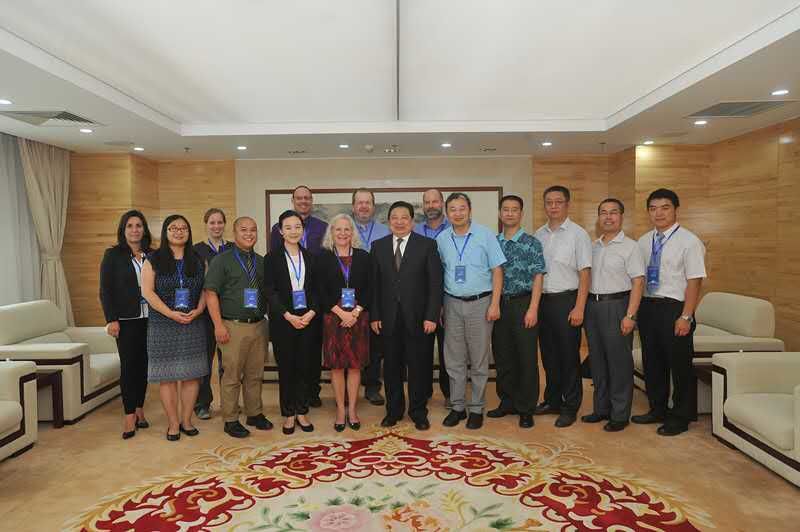 NU/BLCU Joint Centre of Aphasia
Dr. Cynthia Thompson, lab members, and clinical faculty members went to China in September 2016 to discuss the first research project of the NU/BLCU Joint Centre of Aphasia at Beijing Language and Culture University (BLCU). This new collaborative center will support research and clinical projects aiming to improve outcomes for Chinese people with aphasia.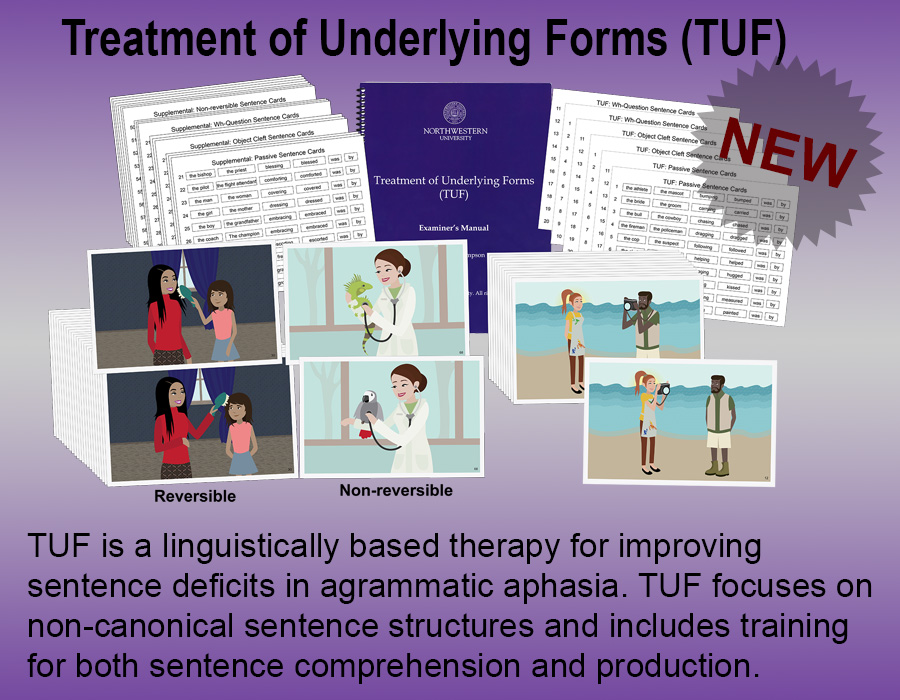 Tests and Treatment for Aphasia

Several diagnostic tests and treatment are available for purchase: The Northwestern Naming Battery (NNB); The Northwestern Assessment of Verbs and Sentences (NAVS); The Northwestern Anagram Test (NAT); Treatment of Underlying Forms (TUF)
P.I. Cynthia Thomspon, Ph.D.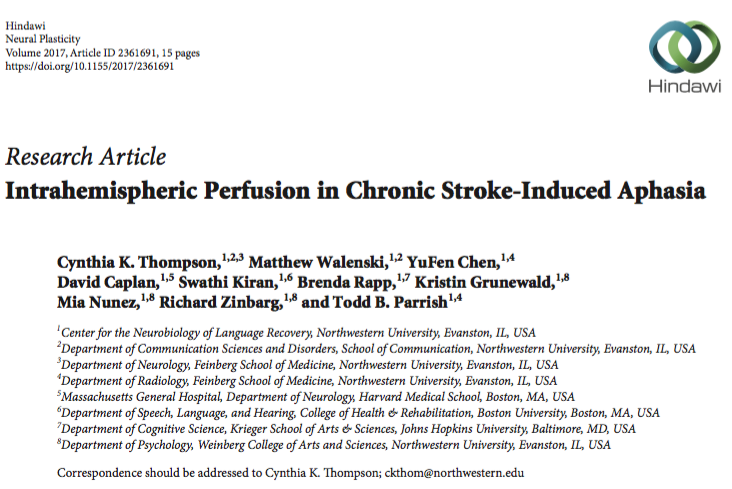 News
JHU "Great Adaptations"
The left panel captures the brain's response for neurologically intact individuals when reading words in a functional magnetic resonance imaging scanner. Read More
"Neurobiology of Language Recovery in Stroke-Induced Aphasia"
Watch Dr. Thompson's Clinical Neuroanatomy Seminar on first-phase findings derived from CNLR. Read More
National Aphasia Association (NAA)
Aphasia impairs the ability to speak and understand others, and most people with aphasia experience difficulty reading and writing. Read More